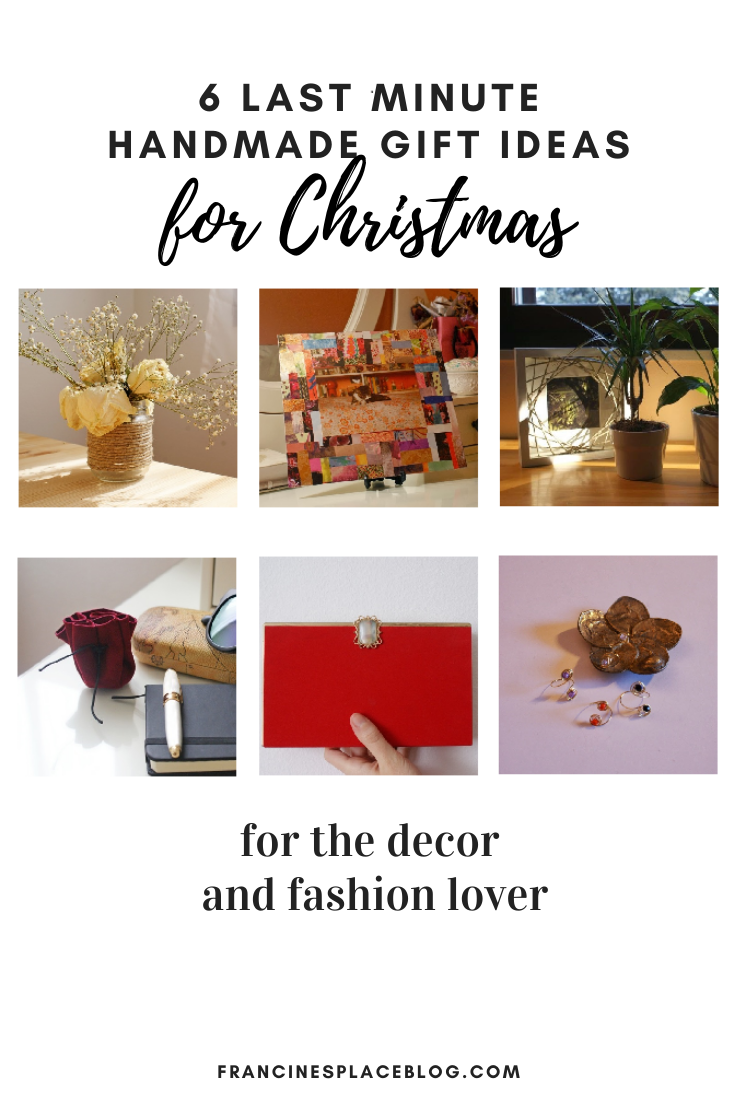 While I'm getting ready to post a lot about Christmas, find some inspiration for your gifts with this selection of old DIYs from my blog.
I made them during the years and they are still in my favourites list. I chose 3 for house and decor and 3 for fashion addicted. They are all last minute, handmade and budget friendly gift ideas. Have fun!
//
Mentre preparo a postare tante idee per Natale, trovate l'ispirazione che cercate per i vostri regali grazie a questa lista di vecchi fai da te che ho realizzato negli anni, ma che sono ancora nella mia lista dei preferiti.
Ne ho scelti 3 per la casa ed il decor e 3 per le fashion addicted. Sono tutte idee regalo fai da te economiche e last minute. Divertitevi!
Gifts can become a real problem when time is not enough to wander from shop to shop or to choose between millions of items on Amazon. Aaand, when it comes to gifts for men the situation can turn into a drama. I don't know for you, but for me choosing something for a man is not as easy as for a woman. I mean…we girls like almost everything! And, if in doubt, clothing will always work. But for them…that's an other story. This is why I made these 5 last minute DIYs: something handmade will always be appreciated. Oh, and this list is bf approved, so…okay!
//
I regali possono diventare un problema se non si ha tempo di vagare per negozi o di cercare qualcosa tra i milioni di articoli su Amazon. Eee, quando si tratta di regali per maschi la situazione può diventare drammatica. Non so voi, ma io trovo molto più difficile scegliere qualcosa per un uomo che per una donna. Dai…a noi ragazze piace un po' tutto e, nel dubbio, l'abbigliamento funzionerà sempre. Ma per loro…è tutta un'altra storia. Ecco perché ho realizzato 5 fai da te last minute: qualcosa fatto a mano sarà sempre apprezzato. Ah, e la lista è approvata dal mio ragazzo, quindi…okay!
***
DIY HOME DECOR HANDMADE GIFT IDEAS // REGALI PER LA CASA FAI DA TE
1)
DIY ROPE JAR // VASETTO RICOPERTO CON SPAGO FAI DA TE
For this project you'll only need a jar, rope and glue. Find the tutorial here. // Per questo progetto avrete bisogno solo di un vasetto, spago e colla. Qui il tutorial.
2)
DIY PATCHWORK FRAME // CORNICE PATCHWORK FAI DA TE
A really, really fun project that will make you feel SO creative! Read the full tutoral here. // Un progetto davvero, davvero divertente che vi farà sentire SUPER creative! Leggete come qui.
3)
DIY WOVEN GEOMETRIC RUSTIC 3D FRAME // CORNICE RUSTICA 3D CON INTRECCIO GEOMETRICO FAI DA TE
I'm still so proud of this frame. I mean, isn't it too cool? Full tutorial here. // Sono ancora super fiera di questa cornice. Dai, non è stupenda? Tutorial completo qui.
DIY FASHION HANDMADE GIFT IDEAS // IDEE REGALO FASHION FAI DA TE
1)
DIY NO SEW COIN PURSE // PORTAMONETE SENZA CUCITURE FAI DA TE
Cause a coin purse is always a good choice, talking about gifts. Aaand, if it's easy to make, even better!
Here the tutorial. // Perché un portamonete è sempre una buona scelta, parlando di regali. E…se è facile da realizzare ancora meglio! Qui il tutorial.
2)
VELVET CLUTCH (DIY) // CLUTCH IN VELLUTO (FAI DA TE)
Okay, this is officially one of my faves EVER. Can you believe that everything starts from an old video tape case?
See here with your eyes! // Ok, questa clutch è ufficialmente un dei miei fai da te preferiti di SEMPRE. Ci credete che tutto inizia da una vecchia custodia di videocassetta? Guardate qui coi vostri occhi!
3)
DIY TWISTED WIRE MIDI RING // ANELLINI CON FILO ARROTOLATO FAI DA TE
These cute midi rings are waaay easier to make than they seem! Try following the tutorial here. // Questi anellini adorabili sono molto più facili da fare di quello che sembra. Provateci seguendo il tutorial qui!
Hope you'll like this selection. Happy weekend, guys! // Spero vi piacerà questa selezione. Buon weekend!