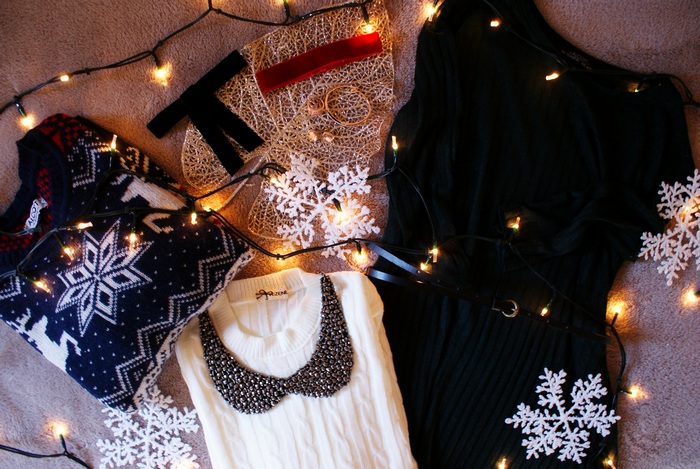 With only 5 days left to Christmas Eve and 6 to the big day, the problem becomes real: what the *!@% am I going to wear?!
Things that actually matter. If you are still in a nebulous state of mind about your festive outfit, I'm here to share 5 tips to make it comfy, pretty and special!
//
Con solo 5 giorni alla Vigilia e 6 al grande giorno, il problema inizia a farsi reale: cosa *!@% mi metto?!
Cose che contano, insomma. Se siete ancora in uno stato mentale nebuloso riguardo a che outfit sfoggiare a Natale, sono qui per condividere 5 consigli per rendere il vostro look comodo, carino e speciale!
Whether you live in a cold or a warm place, these tips will be (hopefully!) useful to create a last minute but unique festive outfit. 2 of them are DIYs, discover more below!
//
Sia che viviate al freddo o al caldo, questi consigli saranno utili (si spera!) per creare un outfit natalizio last minute ma unico. 2 di loro sono fai da te, scoprite di più qui sotto!
***
1)
LET'S BLING BLING! // PAROLA CHIAVE: LUCCICARE!
Forget about minimal jewelry for once. During Christmas holidays opt for sparkling accessories, but with moderation: this means that if you have a beautiful statement necklace, you won't wear big earrings. Be shiny but don't overdo: simplicity is always the key! // Dimenticatevi i gioielli minimal per una volta. Durante le feste optate per accessori che luccicano, ma con moderazione: questo significa che, se volete indossare una bella collana piuttosto vistosa, non metterete anche dei grossi orecchini. Siate scintillanti, ma senza strafare: la semplicità è sempre la chiave!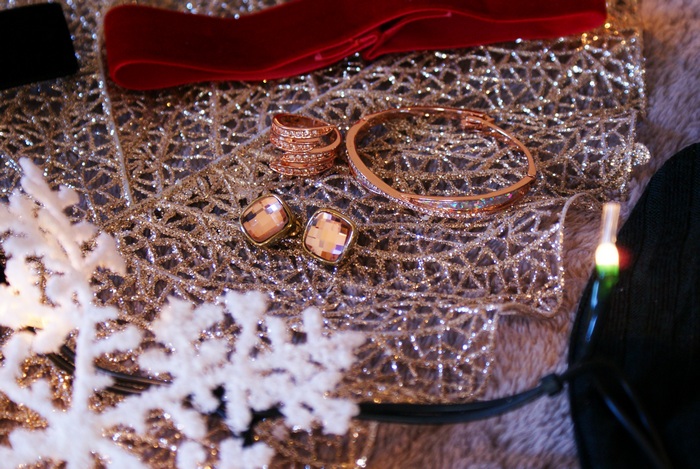 2)
PUT A BOW ON IT // AGGIUNGETE UN FIOCCO
How to look pretty and chic with the minimum effort? Adding a bow, of course! This time of the year nothing is too girly, so you just need to add a bow to your hairstyle to make it perfect. Even the simple low ponytail becomes elegant with a ribbon, or you can make a bow clip like this one in the photos following my tutorial here. // Come sembrare carine e chic con il minimo sforzo? Ma con un fiocco, ovviamente! Questo periodo dell'anno niente è troppo girly e a voi basta aggiungere un fiocco alla vostra pettinatura per renderla perfetta! Anche la semplice coda bassa diventa elegante con un nastro, oppure potete realizzare un fermaglio come quello che vedete in foto seguendo il mio tutorial qui.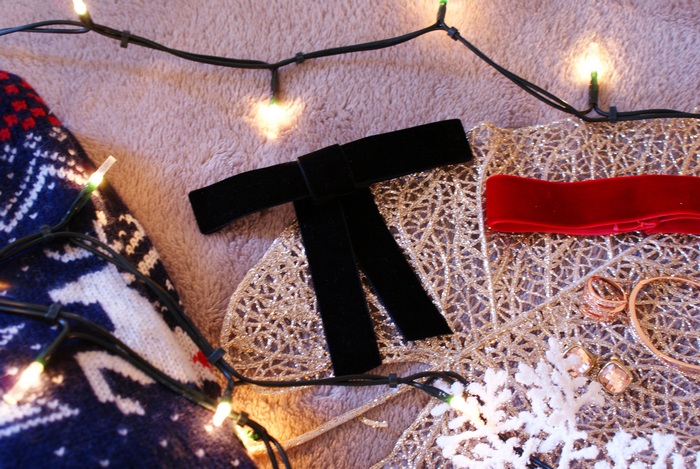 3)
DRESS + MINI BELT // VESTITO + MINI CINTURA
This is something I totally love: a mini high waist belt it's like the cherry on top, talking about outfits. It makes so chic even the everyday sweater dress. Choose it in a neutral color or opt for glitters if your dress is basic, for a sparkling touch! // Ecco qualcosa che amo: una mini cintura a vita alta è come la ciliegina sulla torta, in fatto di outift. Rende speciale anche quell'abito maglione che indossate ogni giorno. Sceglietela in un colore neutro, o con glitter, per dare un tocco di luce ad un abito basico!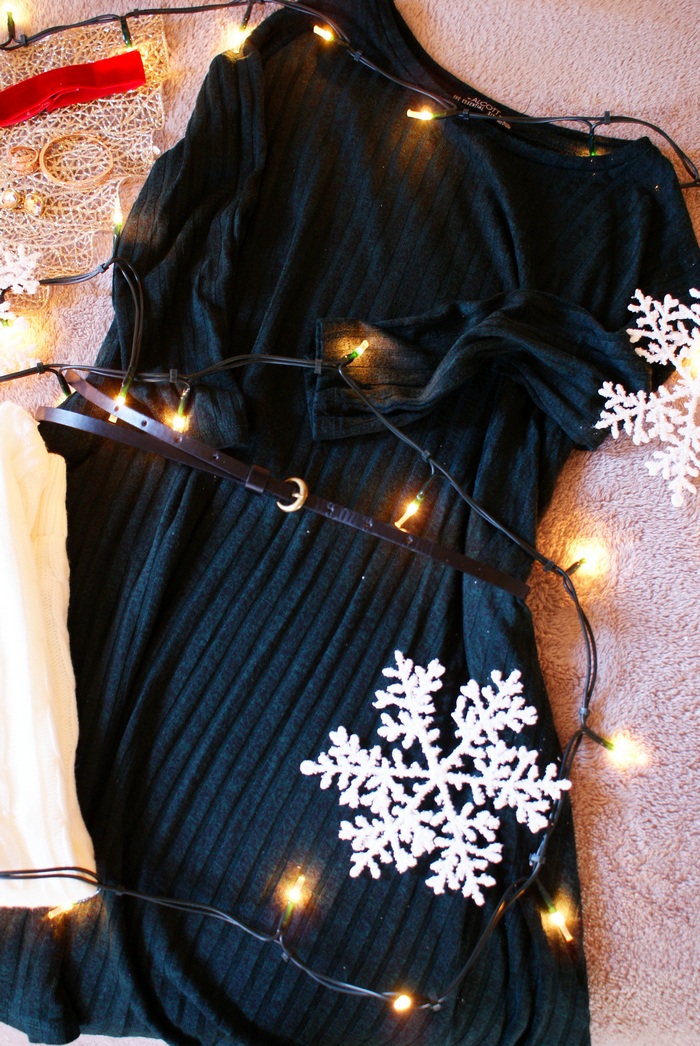 4)
VELVET CHOKER FOREVER AND EVER // COLLARINO IN VELLUTO SEMPRE E COMUNQUE
It seems that velvet it's not going anywhere, so let's add it to out Christmas look! Make an easy (super easy) red velvet choker and voilà! You're so 90's and cool! Tutorial here. // Sembra che il velluto non andrà da nessuna parte ancora per un po', quindi aggiungiamolo al nostro look natalizio! Realizzate un collarino rosso davvero facile da fare e voilà! Siete così cool e anni 90! Tutorial qui.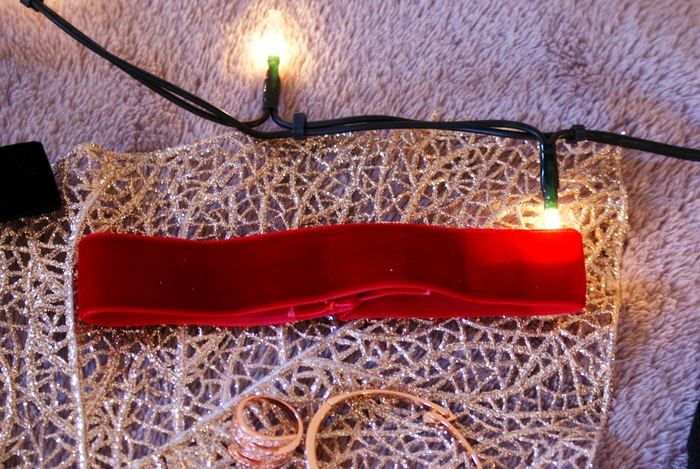 5)
THAT FESTIVE SWEATER // QUEL MAGLIONCINO NATALIZIO
I've already talked about it here, but I want to repeat myself: that festive sweater is like your bestfriend, who comes to help you when you are stuck in a fashion rut. That sweater that will make you feel pretty even with a pair of jeans, if you are not in the dress/skirt mood. And here there are two options: for the bravest, the Christmas sweaters (I personally looove them!) or embellished sweaters for those of you who didn't feel it enough (haha, just joking!). Cozy, pretty and festive for sure. // Ve ne ho già parlato qui ma voglio ripetermi: quel golfino delle feste è come il vostro migliore amico, che viene a soccorrervi quando siete senza alcuna ispirazione fashion. Quel golfino che vi farà sentire carine anche con dei jeans, se non siete nel mood per gonna o vestito. E qui ci sono ben due opzioni: per le più coraggiose, i maglioni natalizi (io li amo!!!) o i golfini con dettagli preziosi per quelle di voi che non ci hanno creduto abbastanza (ahah scherzo!). Coccolosi, carini e senza dubbio festivi.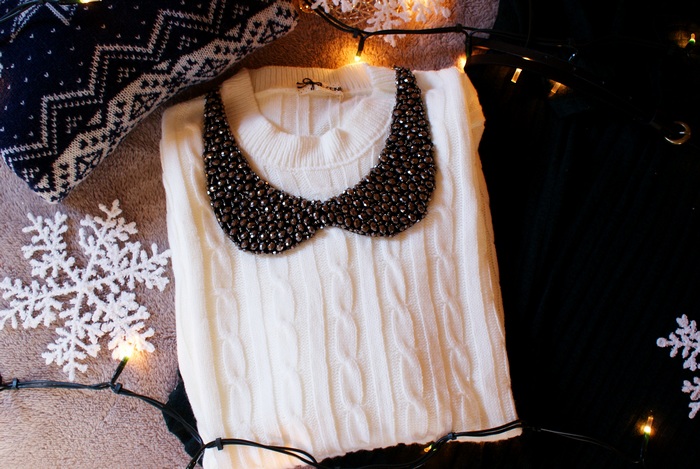 Well, I hope you find this post useful and let me know if you have other tips! // Bene, spero che questo post vi sia d'aiuto e fatemi sapere se avete altri consigli!