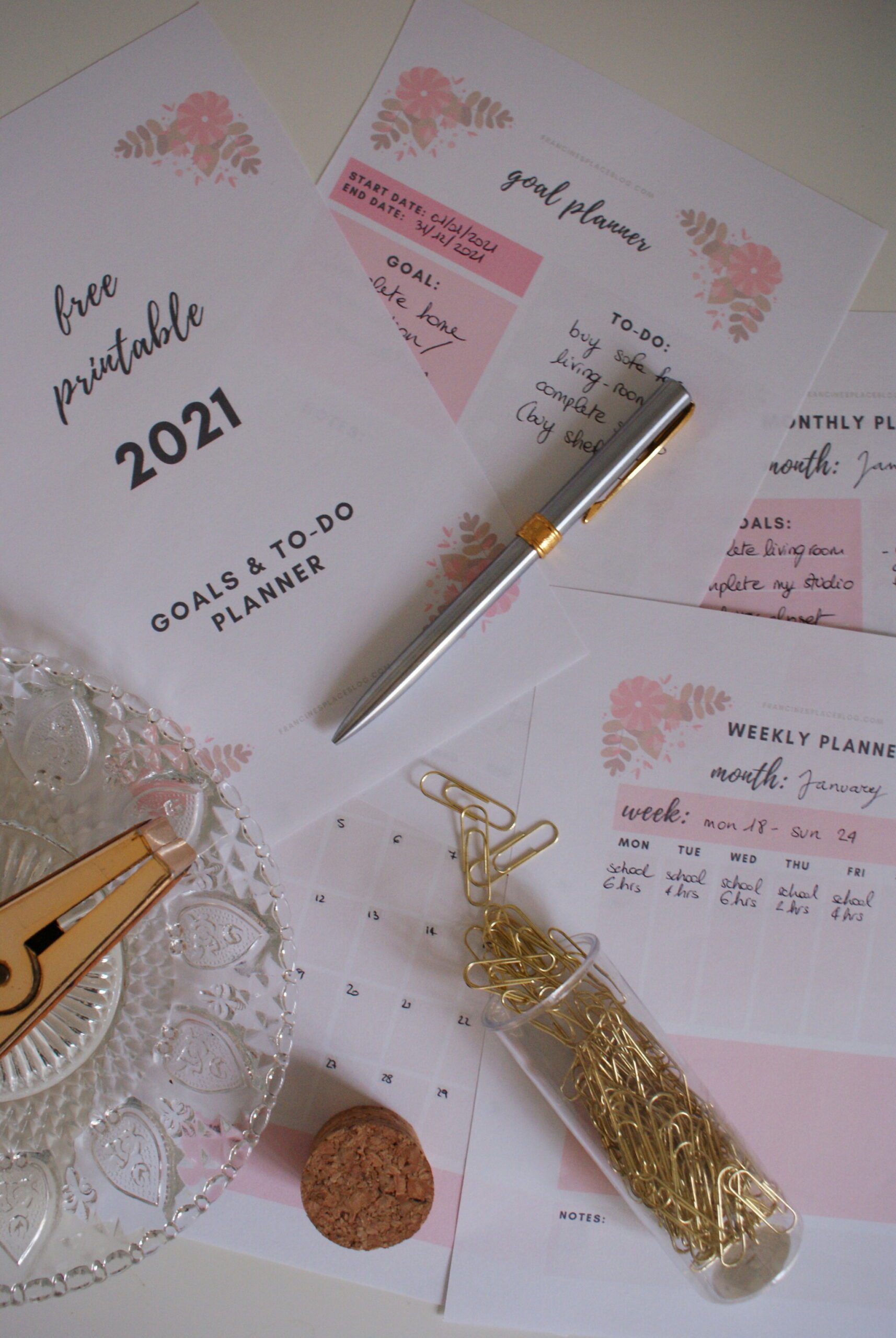 Looking for the ultimate free printable 2021 monthly and weekly goal planner? Download the pdf for free, no registration required!
This useful monthly and weekly free printable goal planner will help you to set and plan your 2021 goals and to-do lists and track your achievements. A complete pdf planner that you can print and personalize depending on your needs!
//
Se state cercando un'agenda in pdf da stampare gratis per gli obiettivi e le liste to-do del 2021 siete nel posto giusto! Scaricatela qui, non occorre registrazione!
Questa agenda stampabile gratis mensile e settimanale vi aiuterà a definire e pianificare gli obiettivi e le cose da fare durante il 2021. Potrete personalizzarla e riportare i risultati raggiunti!
Happy new year guys!!! If there's something I love spending time for, it's setting up my new year's planner! I can't stay without my planner (I actually write down everything I do) and this is why I created this free printable 2021 monthly and weekly goal planner. Keep on reading to download your pdf copy!
//
Buon anno nuovo a tutti!!! Se c'è qualcosa che adoro fare è sicuramente organizzare l'agenda per il nuovo anno (sì, è una fissa e sì, mi scrivo davvero tutto). Ecco perché ho preparato questa agenda stampabile gratis mensile e settimanale per gli obiettivi e le cose da fare nel 2021, continuate a leggere per scaricare gratis la vostra copia in pdf!
***
Guide to the 2021 goal planner:
I created 7 pages + 1 cover page. Inside this free printable 2021 goal planner, you'll find:
a cover (print x 1)
a goal planner (print x as many goals as you want to achieve this year)
a monthly calendar (print x 10)
a monthly calendar with 6 weeks (print x 2 for May and August 2021)
a monthly planner (print x 12)
an at-a-glance weekly planner (print x 52)
an hour-by-hour weekly planner (2 pages, print each x 52)
The planners and the calendar are empty so that you can fill them with the month name, the month calendar days and week number (there are 52 weeks in 2021, so print x 52 and then divide them by month). You can also write notes and track your goal progress thanks the to-do list (the goal planner has a to-do list to help you figure out how to achieve it by steps).
>>> Download the free printable 2021 monthly and weekly goal planner here! <<<
//
Guida all'uso dell'agenda degli obiettivi 2021:
Ho creato 7 pagine + 1 copertina. All'interno dell'agenda degli obiettivi 2021 troverete:
una copertina (stampare x 1)
un planner degli obiettivi (stampare x tanti quanti obiettivi avete)
un calendario mensile (stampare x 10)
un calendario mensile da 6 settimane (stampare x 2 – Maggio e Agosto 2021)
un planner mensile (stampare x 12)
un planner settimanale generale (stampare x 52)
un planner settimanale orario (2 pagine, stampare ognuna x 52)
I planner e il calendario sono vuoti, così che possiate riempirli con il nome del mese, il calendario mensile ed il numero dei giorni e delle settimane (nel 2021 ce ne sono 52, quindi stampate 52 copie e poi dividetele in base ai mesi). Potete anche scrivere delle note e monitorare i vostri obiettivi con le liste delle cose da fare (per ogni obiettivo avrete anche una sezione to-do dove scrivere i vari step per il suo raggiungimento e segnare quelli già completati). Il bello di questa agenda è che l'anno prossimo vi basterà cambiare la copertina, ristampare tutto il resto e voilà!
>>> Scaricate gratis l'agenda mensile e settimanale degli obiettivi 2021 in pdf qui! <<<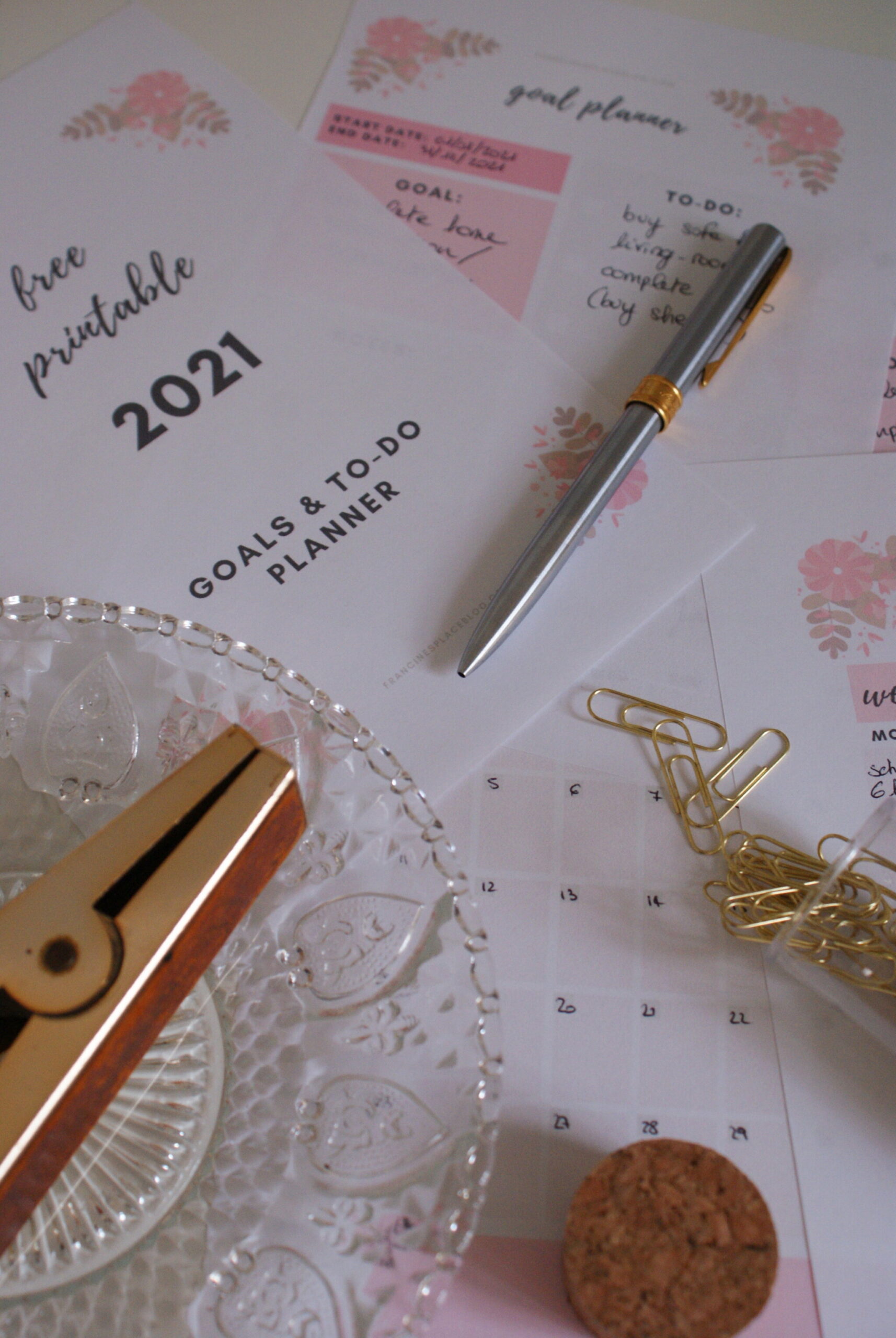 Did youlike the post? Pin it on Pinterest!