Looking for tips on how to declutter and organize your kitchen to get a minimalist space, maybe in one day? You're in the right place!
If you dream about a minimalist and decluttered kitchen, follow these easy and quick tips to get it organized in one day!
//
Siete alla ricerca di consigli su come riordinare e organizzare la vostra cucina per renderla più minimalista? Siete nel posto giusto!
Se sognate una cucina minimalista e ben organizzata, seguite questi facili e veloci consigli e sistematela in un giorno!
Have you looked around your kitchen lately? On a scale of 1 to 10, how cluttered would you say it is? If your goal is to jump on the minimalist trend, then start by clearing out your space with these simple tips on how to declutter and organize your kitchen. You can get it done in one day, promised!
//
Avete mai osservato bene la vostra cucina? Su una scala da 1 a 10, onestamente, quanto la riterreste ordinata? Se il vostro sogno è di abbracciare il trend minimalista, iniziate a sgombrare lo spazio seguendo questi semplici consigli su come riordinare ed organizzare la cucina. Potete farcela in un giorno, promesso!
Invest in better cookware and kitchen accessories // Investite sugli utensili e accessori da cucina
The more you spend, the less you spend. Nothing more true! It's important to invest in good cookware and kitchen accessories so you don't have to buy new ones every year. Choose neutral-colored cookware and accessories that will blend in well with any color scheme you choose to adopt in the future. Get rid of excess pieces that are of poor quality or that you barely use. The same rule applies to appliances: just because everyone has an air fryer it doesn't mean you have to buy one! Try not to occupy too much cupboard space with unnecessary items and, when cleaning out your kitchen, count how many duplicates you have: for example, the knives in your cutlery drawer or on your tabletop. Get rid of all those bread knives you barely use and give any unopened knife sets to your friends!
//
Più spendi e meno spendi. Nulla di più vero! Eh già, è importante investire su utensili e accessori da cucina proprio per non doverne ricomprare di nuovi ogni anno. Scegliete utensili e accessori in colori neutri, così che stiano bene con la palette della vostra cucina attuale, ma ance con eventuali cambiamenti futuri. Liberatevi di tutti quei pezzi di bassa qualità o che usate pochissimo e applicate la stessa regola anche agli elettrodomestici: non è che se le vostre amiche possiedono una friggitrice ad aria allora ciò significa che la dobbiate avere per forza anche voi! Cercate di non occupare spazio inutile sul top con cose che non vi servono e, mentre ripulite la cucina dalle cose inutili, contate anche i doppioni che avete: ad esempio, quanti coltelli per il pane potete contare? O quante tazze da tisana tutte spaiate siete riuscite ad accumulare? Ecco, è giunto il momento di sbarazzarvene e tenere l'essenziale.
Declutter your kitchen countertop // Riordinate il top della cucina
A rule for creating a neat and clean kitchen area is to make sure that the kitchen top is free from clutter. All appliances must be neatly stored away. You can keep things that you regularly use close by (like herbs, cooking spoons, bread or tea boxes etc.), but be sure that they match well together and purchase aesthetically pleasing containers to keep them organized but without the clutter look. A pro tip? Choose pieces that match the top colour so they will blend with it!
//
Una regola essenziale per avere una cucina ordinata e sgombra è tenere in ordine il top. Tutti gli elettrodomestici dovrebbero essere riposti nelle basi o nei pensili della cucina per evitare troppo affollamento sul ripiano. Potete tenere in vista le cose che usate di più, come ad esempio le erbe, i cucchiai da cucina, il cestino del pane o le scatole del tè, ma fate attenzione che stiano bene insieme esteticamente e, nel caso, acquistate contenitori che servano sì a organizzare, ma che evitino anche l'effetto "accozzaglia di cose" sul piano. Un consiglio pro? Scegliete pezzi di un colore simile al top della cucina, così che possano mimetizzarsi con esso!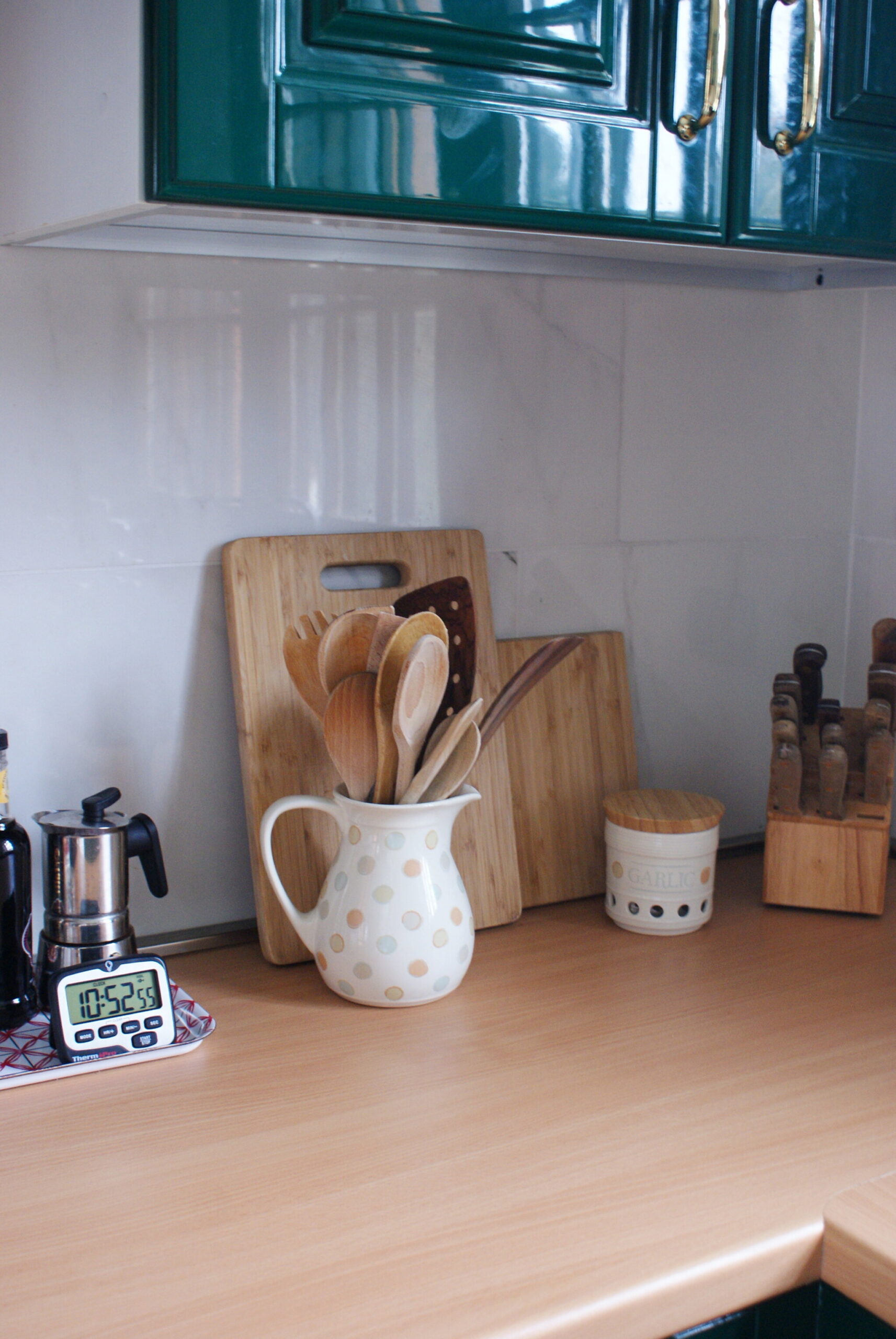 Storage is everything // L'ordine è tutto
This is probably the hardest part: try to keep everything stored correctly. When cleaning your countertops, it's important to resist the urge to simply throw everything in the cupboards, pantry, or fridge. These spaces need to be streamlined too. Buy jars and neutral containers to store items in your fridge and pantry. Keep your drawers and cupboards neat too with organizers and dividers. Don't want to buy new ones? Use plastic containers like the ones you usually get when you buy veggies or food, I use them to storage almost anything in my pantry and I also feel so proud to reuse plastic with no waste!
//
Questo è forse il punto più difficile: cercate di tenere tutto ben organizzato. Quando riordinate il top, non lasciatevi andare alla tentazione di buttare tutta quella roba in dispensa o nei vani della cucina! Anch'essi devono essere ben ordinati ed organizzati. Ok, ma come? Con barattoli, divisori, cestini e tutto quello che può venirvi in mente per avere tutto ben disposto ma anche comodo da usare. Lo stesso vale per i cassetti, ovviamente e, se non avete voglia di acquistare dozzine di contenitori, fate come me e riciclate quelli di plastica che solitamente contengono il cibo o le verdure che acquistate al supermercato. Io li uso per organizzare praticamente tutto quello che ho in dispensa e la cosa bella è che facendo così non spreco nemmeno la plastica!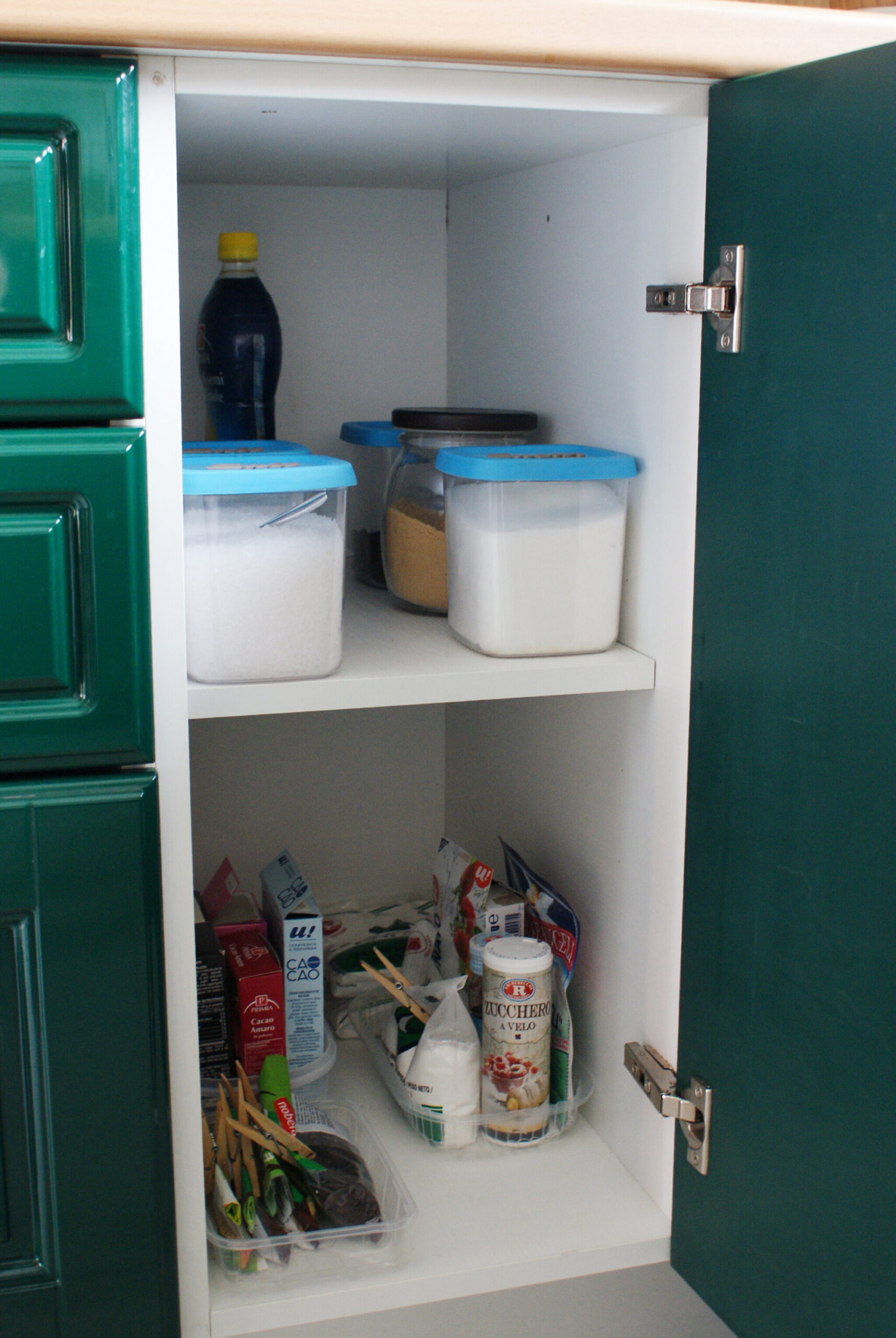 Don't forget to decorate! //Non vi dimenticate di decorare!
Even if you want a minimalist kitchen, try to make it feel actually yours by adding some decorations that avoid the anonymous effect. We spend a lot of time in our kitchen and we must feel comfortable in it! So, choose a few decor pieces that can decorate and give some personal style to your kitchen, like your fancy dinnerware, a beautiful fruit basket, a cake stand, flowers and so on. Don't overdo (remember to keep the top clean!) but keep in mind that without your personal taste, you'll only get a boring, decluttered kitchen. So, have fun!
//
Anche se volete una cucina minimalista, cercate di renderla davvero vostra con qualche decorazione che eviti l'effetto anonimo. Passiamo gran parte del nostro tempo in cucina, quindi dobbiamo sentirci a nostro agio in quello spazio! Dunque, scegliete alcuni pezzi di decor e date alla cucina il vostro tocco personale , ad esempio esponendo un bel servizio di piatti, una fruttiera particolare, una tortiera, dei fiori e via dicendo. Non esagerate (dovete tenere il top in ordine!), ma tenete a mente che senza il vostro gusto personale otterreste solo una noiosissima, anche se ben organizzata, cucina. Quindi, divertitevi!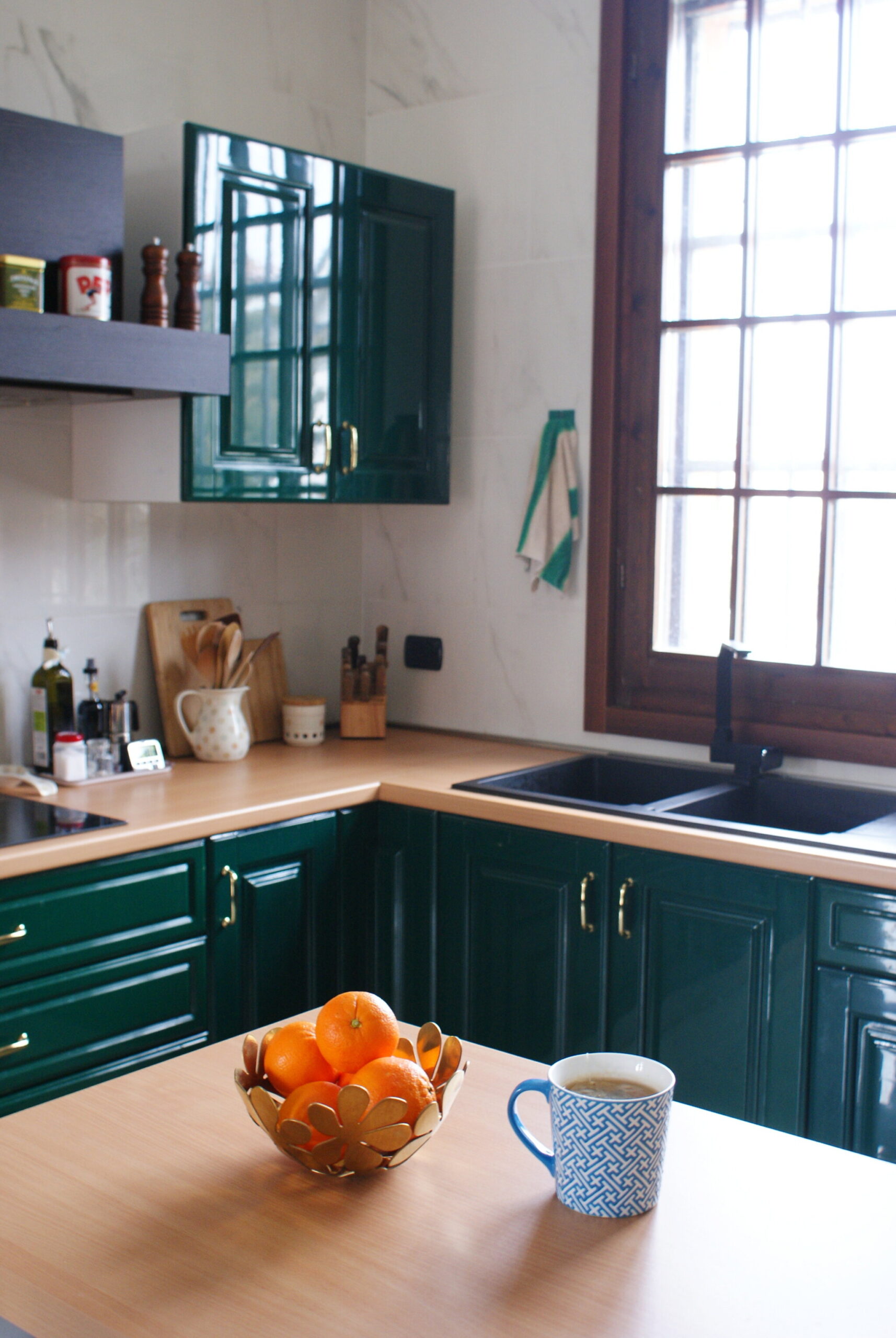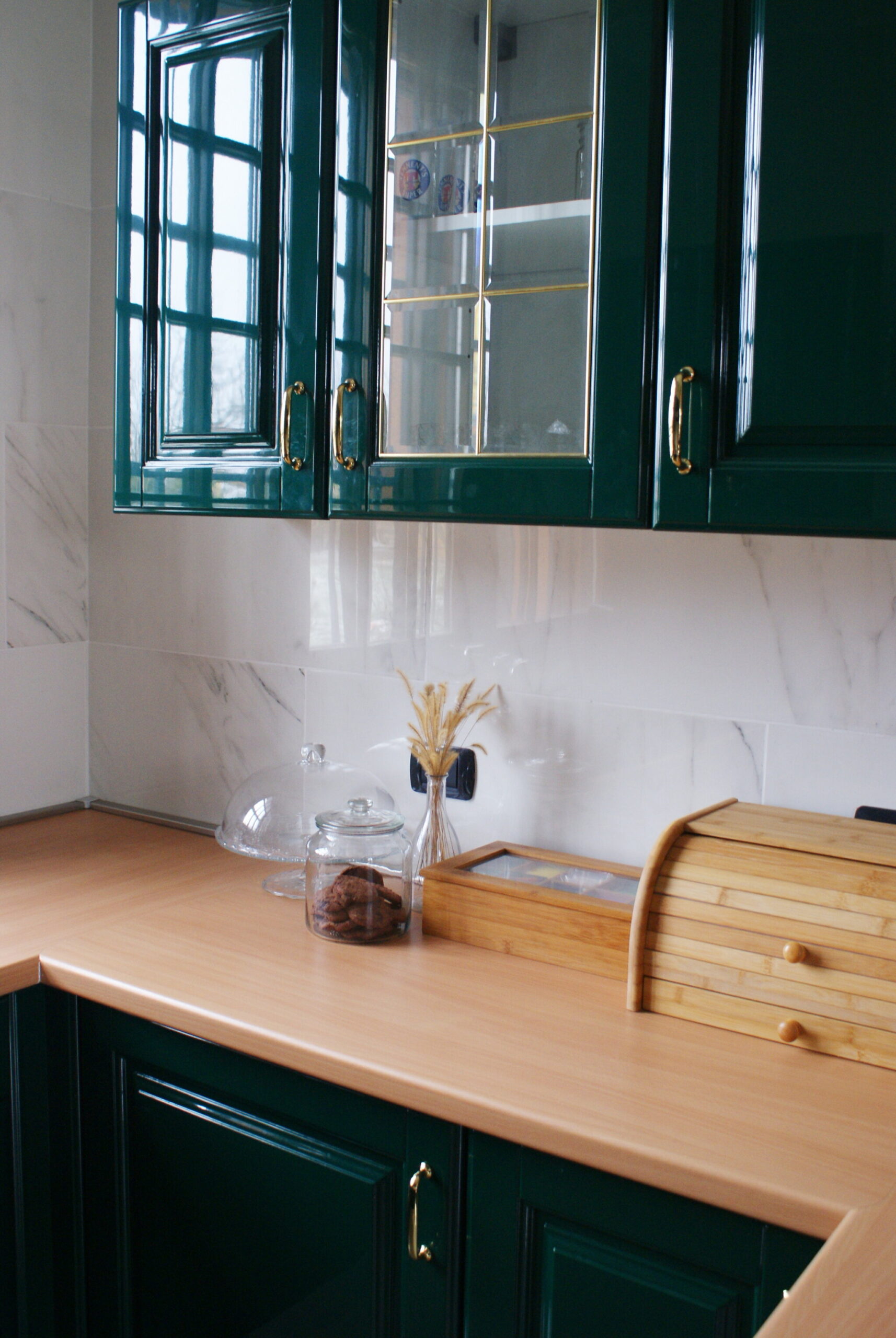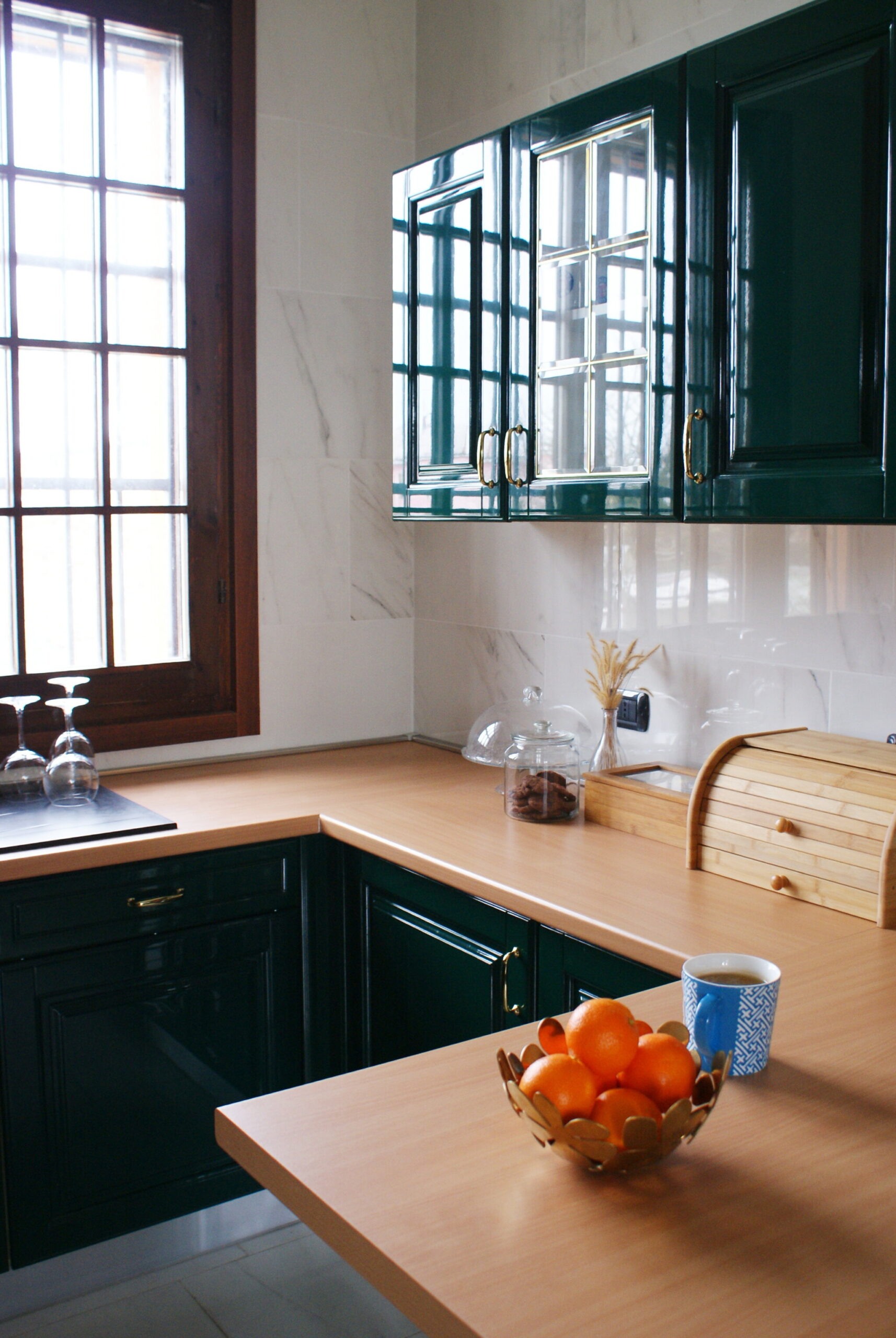 As you can see, cleaning out your kitchen and getting rid of unnecessary clutter is just few easy steps away, so don't waste time and get your minimalist kitchen today!
//
Come potete vedere, ottenere una cucina ben organizzata e in ordine non è difficile, quindi non perdete tempo ed iniziate oggi stesso!
Did you like the post? Pin it on Pinterest!