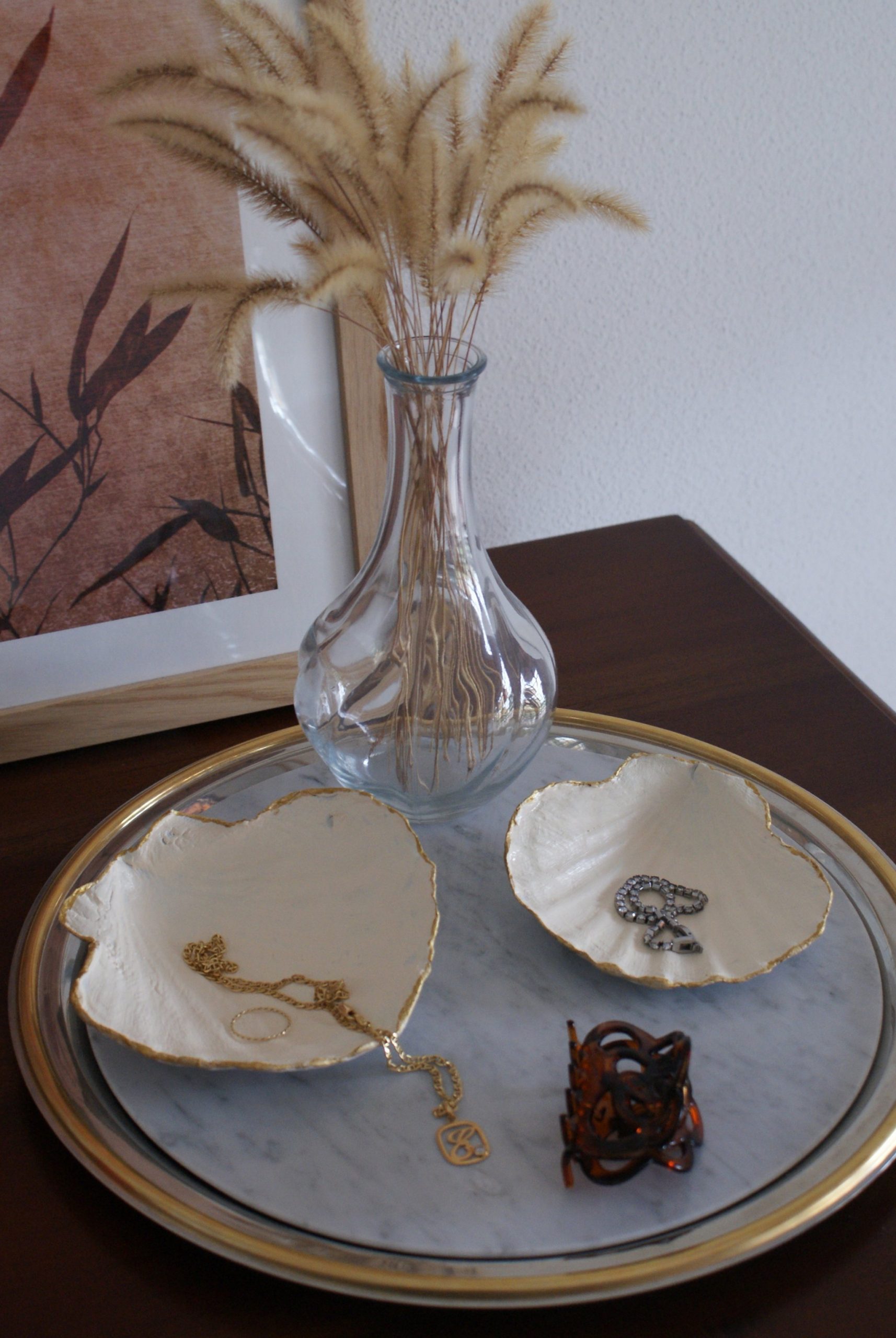 Discover how to make DIY clay shell jewelry dish following this easy tutorial!
If you love aesthetic decor pieces and would like to add one to your home, read how to make DIY clay shell jewelry dish to display your little treasures in a super chic way.
It's not a mistery that I like shell crafts and some time ago I shared this DIY painted shell jewelry dish idea. This time I would try to make something a bit different and experiment with air dry clay (which I'm totally in love with atm – as you can see here or here!) cause it can be used for a lot of DIY ideas, it's cheap and actually super easy to work. So, inspired by the aesthetic trend of shells and beautiful ceramics, I created this DIY clay shell jewelry dish that you can make in minutes at home just by following this easy tutorial. I'm so into aesthetic decor and little beautiful details right now so I thought it could be a great idea making it to display jewelry (or anything else you prefer). We all have those few jewelry pieces we wear everyday and that we only take off when we go to bed, don't we? That said, a place where we can easily pick or lay them it's more than needed and…the cuter the better! It may be new to you (I discovered it a few months ago too) but a lot of necklaces, earrings or bracelets need to be taken off while sleeping especially if they are made of thin chains or delicate parts: that's because they may get caught in our hair or bed sheets and break. With these two DIY shells on the dresser in my bedroom I can now treasure my gold necklaces, rings or everyday bracelets in style and in the morning they're ready-to-wear. Win win! If you'd love to make yours too, discover how to make DIY clay shell jewelry dish following this super easy tutorial!
***
You need:
air dry clay
shell (a scallop one is perfect)
paint
How to:
For this tutorial, I created an Instagram reel so that you can watch the full process and see how easy it is to make these clay shells! You can watch the full reel at the link below:
>> DIY clay shell jewelry dish (Instagram reel) <<<
Here the step by step instructions:
Cut a piece of clay and work it with a rolling pin to get a (not too thin) circle, then place it on the shell and press a bit to let clay take its shape and details. Cut the excess of clay with a knife, trying to following the shell shape and let it dry for about two hours. Once dry, remove the clay shell (be careful while doing this or you may break it) then paint as you prefer. I opted for white, beige and gold but it's totally up to you! Let it dry again and you're done!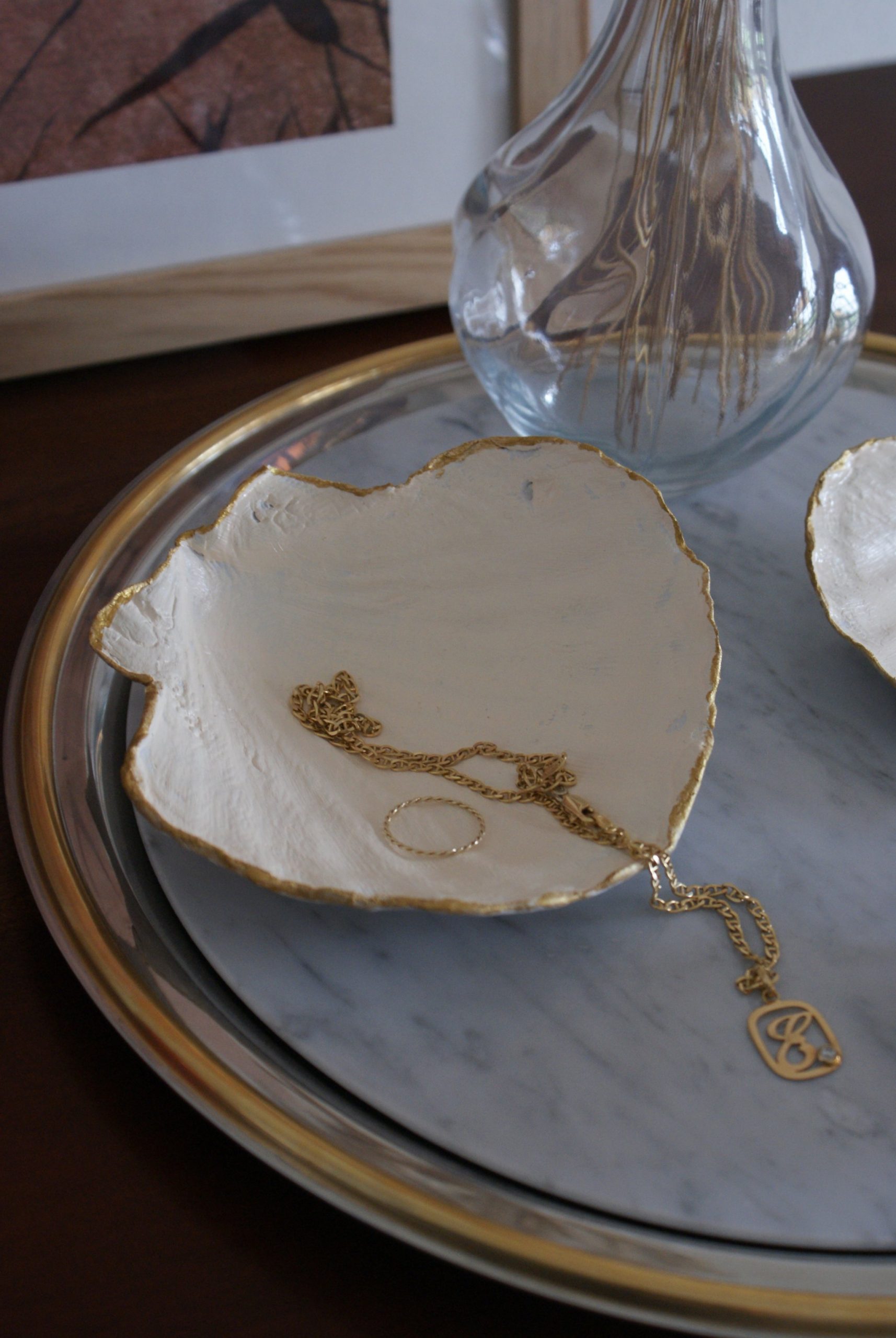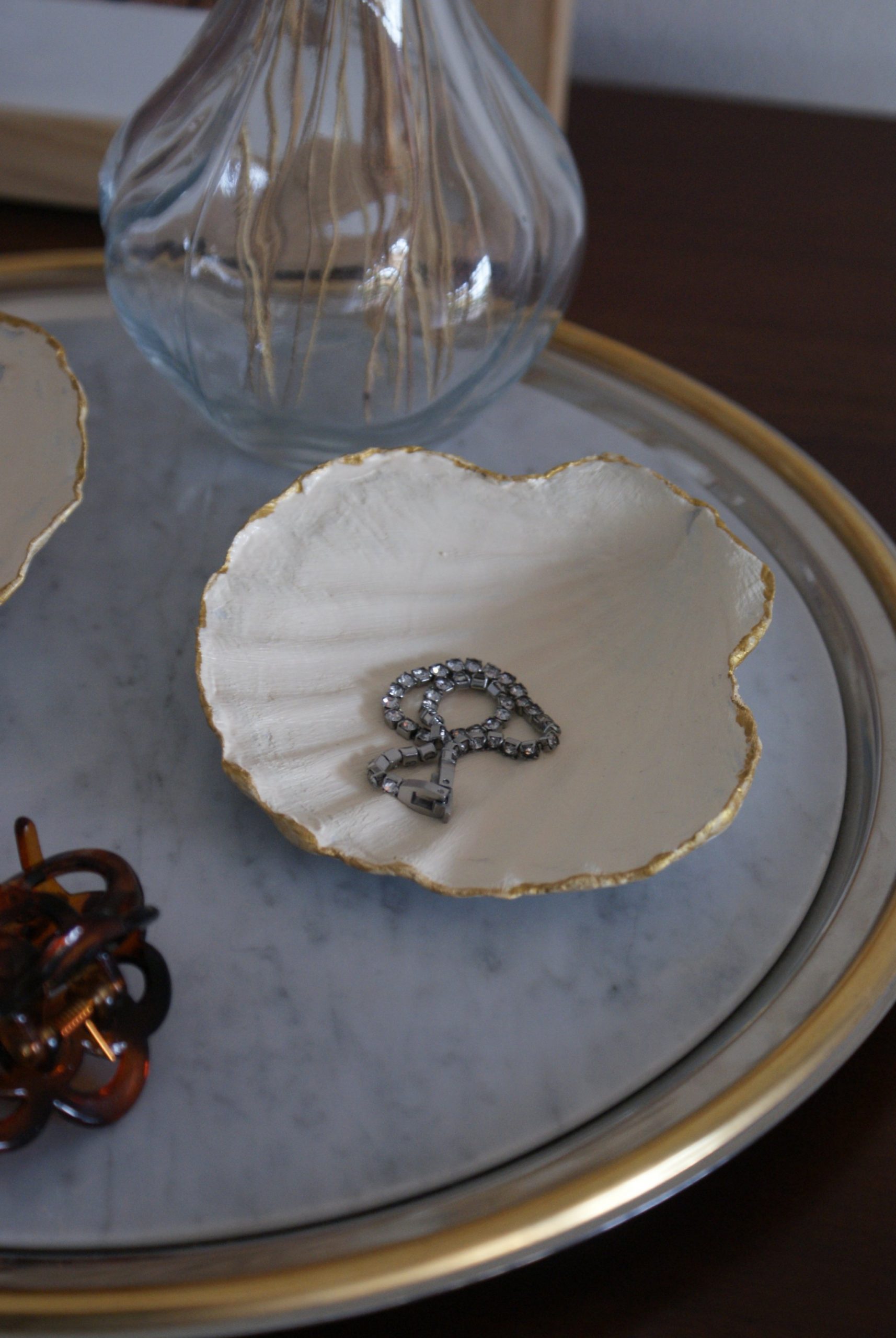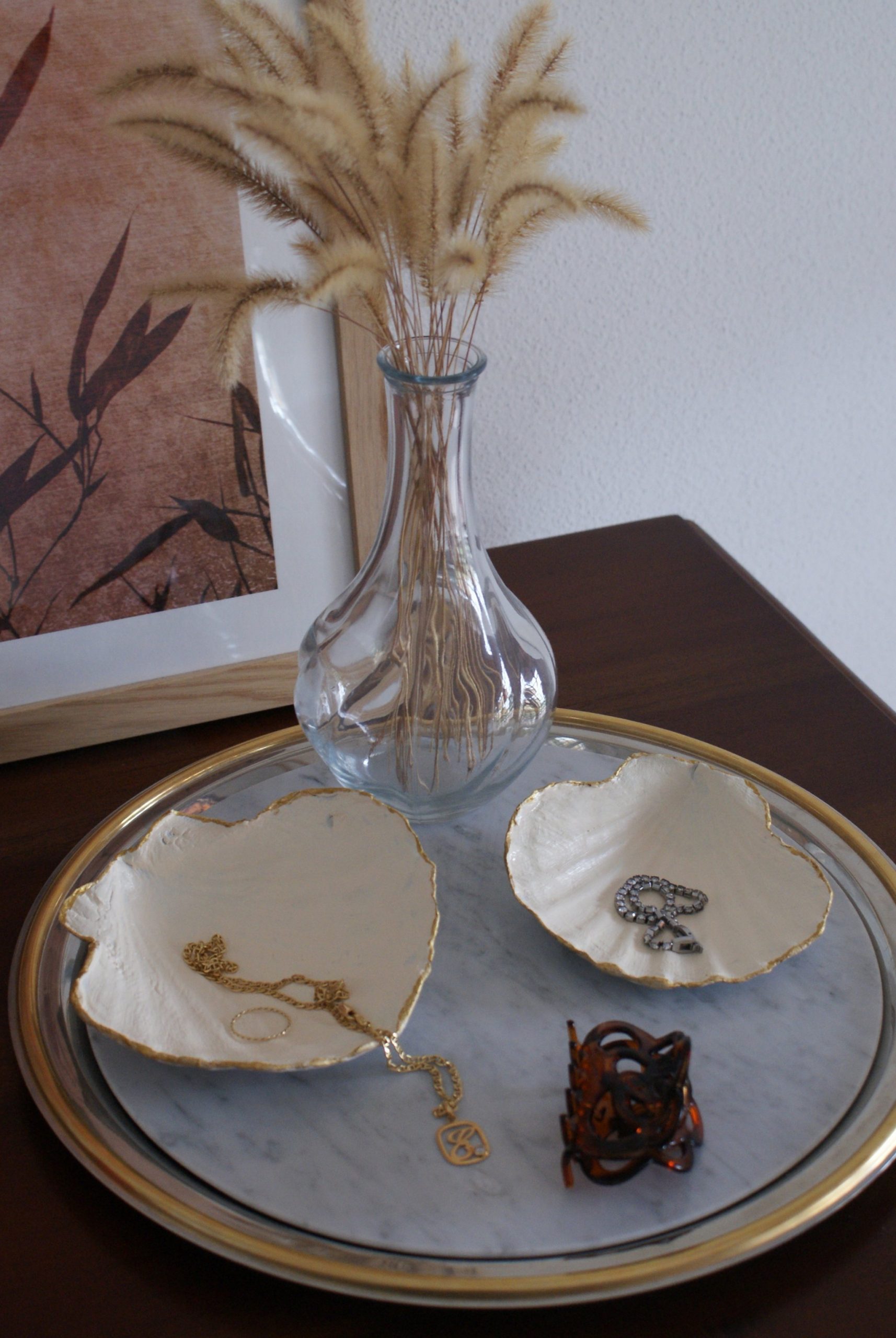 I love the fact that I can see the shell details imprinted on the clay shell, this make it looks so real! I made two versions of this project, one bigger and one smaller and I'm thinking of making a few for the livingroom as well, as catchall or simply decor pieces.
Let me know if you liked this DIY clay shell jewelry dish project, you can also tag me on Instagram (@francinesplaceblog) if you make yours. I would be more than happy to share! Don't forget to pin it on Pinterest if you liked the post!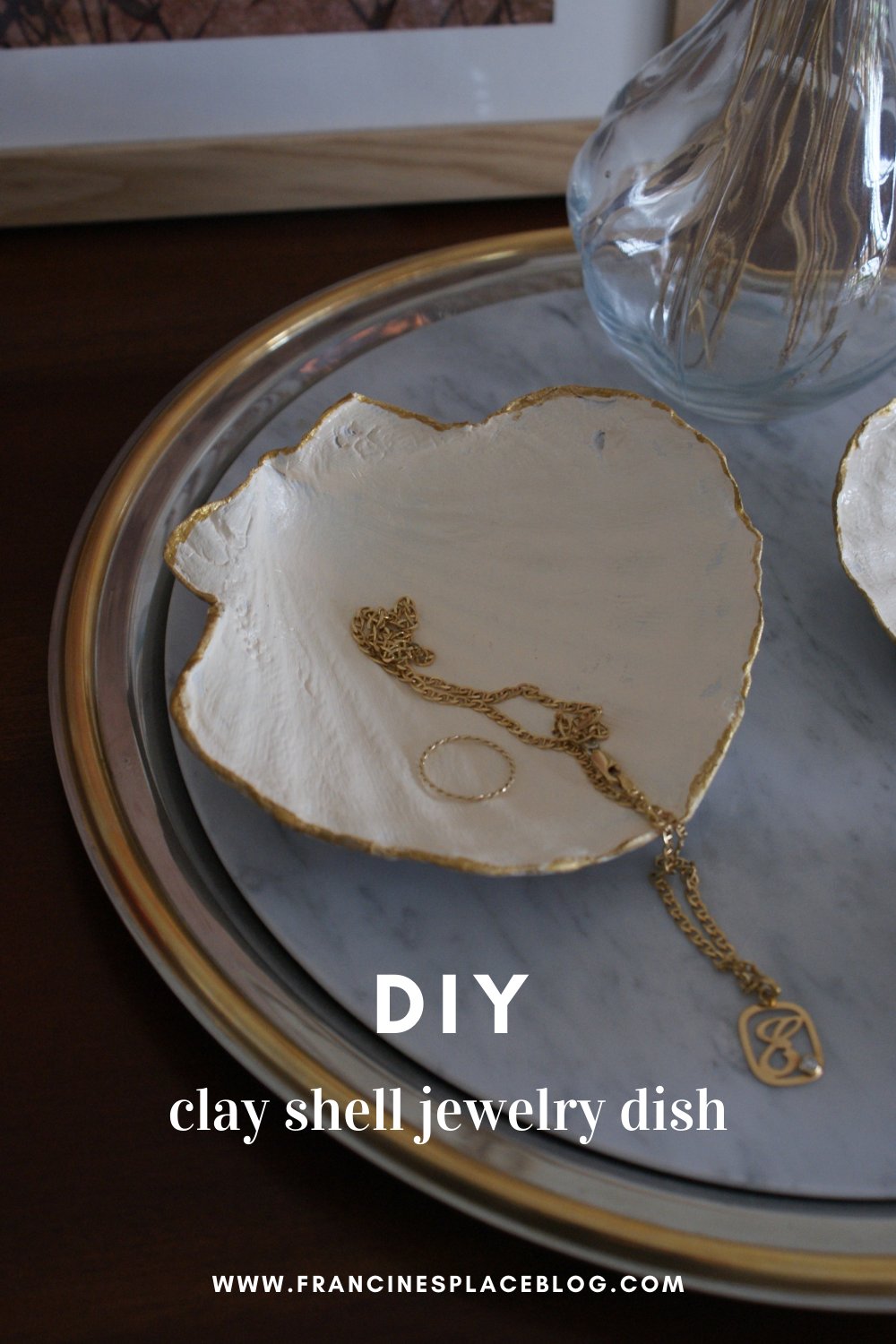 This post is in collaboration with Responsival. Opinions are my own, I was not paid to talk about the products.